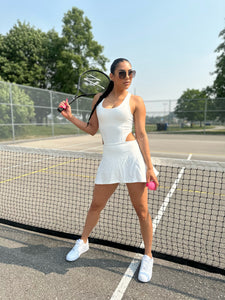 Serve up some court style points with the Women's Caitlin Tennis Dress! This dress is ultra-stretchy and breathable, thanks to its 4-way stretch, dry fit material. Plus, it's padded and features a built-in bodysuit, so you can ace the game all day long. Plus, the tennis skirt will keep you looking stylish while you slam those serves! Pretty neat, right?
CONTACT US FOR QUOTES ON CUSTOM ORDERS INCLUDING YOUR OWN LOGO'S AND COLOR OPTIONS
Fit: True to size (Model wearing medium)
77% Nylon , 23% Spandex | Made in China, Designed in Canada
Individual Price (MSRP: $138.00 | Each: $68.00) 
6-Pack Bulk Price (Pack Price: $408.00)

MINIMUM ORDER: Six Pieces - Choose individual sizes or a pack but a minimum of 6 is required to order these leggings. Should your order not follow these guidelines, you will be contacted by our team for clarification.